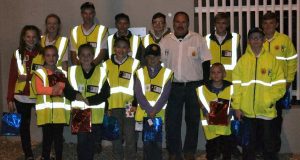 The Pioneerpark Junior Neighbourhood Watch members joined us again during our last Red Alert operation that took place on Saturday the 24th of June 2017. The aim behind the Junior NHW is to teach them to be aware and to know what to look for and what to do in different situations.
This time around we did it a bit differently with the introduction of a Treasure Hunt of sorts. We have placed a number of posters all over Pioneerspark and the kids were tasked to find it and mark it off on the street map provided. With the help and supervision of their parents,  the kids searched every street to see who could find it all.
The treasure hunt has been a most successful and enjoyable evening for both the Juniors and the Patrollers. More photos and details about the evening will be published in our July Newsletter.